Home is
where the heart is.
Gaius Plinius Secundas
(Pliny the Elder) 23 - 79,
Roman author
Family and Genealogy
Our family was empowered and formed in a time of national and international crisis. Sandy and Blanche married (1933), their first born Sonny died in infancy (1934), Tom was born (October 1, 1838). His early family life was a source of love and centeredness but marked by food rationing, the Great Depression and WWII.
We were also a typical postwar family—large, union, poor, with farming and immigrant roots. During the war, Mom and Dad moved out of rural Minnesota in Dakota County to St. Paul where dad worked at the airport and a munitions factory. The family was condensed into a simple two bedroom apartment on St. Paul's West Side. It is hard to imagine what a young Tom experienced in those war years as he attended St. Matthew's grade school. It was during this time he injured his back—complications discovered his first and only year at the University of Minnesota.
All of our aunts and uncles were of the farm with strong family and immigrant lineage. Dad's was Bavarian and Luxembourg and German wove in conversation. Mom's was Czech and Swedish-and her mom remarried another Swede after our grandfather died in 1923. A new step-family was established "up north" on a farm in Amor. At about ten years, Tom would take the train alone north from St. Paul two summers to stay at the extended family's farm. As the family grew in St. Paul, the two bedrooms shrunk! Four boys in one room, parents plus infant another, sister in the living/dining room. Enough was enough: pregnant with Claudia, mom went out and bought the great family home on George Street.
We all took responsibility not to be a burden to our family of seven siblings. During his high school years at Humboldt, Tom worked at Riverview Cleaners down the block. Perhaps a spinal condition was worsened there. His first year (1956) at the UMN, his spinal condition was "discovered" and he had an operation at Mayo—perhaps not so successful. I remember this huge back brace he wore as he recovered. After recovery, maybe during, he got a drafting position at Ellerbe & Company, an architectural and engineering firm that was to set Tom's professional life. He also got his first car—a 1953 Mercury that I thought was the coolest. The owner Thomas Ellerbe mentored Tom, and while working at the firm he continued his studies in engineering in night school at Dunwoody with HVAC a specialty. His career took him to 3M where he worked the rest of his professional life.
With visiting trips to Hampton and New Trier at our uncles on our dad's side, I remember being the back of the old Ford traveling down dirt roads—but we didn't seem to argue. Amazingly through our family life there were few "arguments"—at least with us older three, Tom, Kaye and myself. As us seven kids grew, and began to wander our separate lives, there was one incident that pulled the family back together: the death (auto accident) of our dear brother John in 1972. Only a few of us siblings are left to remember the power of family gatherings for every birthday, national and religious holiday, and now memorial services. We have not moved out of Saint Paul, nor out of our family circle.
Born Claude Edward Landsberger April 30, 1905 of Frank Landsberger and Anna Moes. Their Bavarian and Luxembourger immigrant families intermarried around New Trier, Minnesota and were farmers and related trades. New Trier is the oldest German/Luxembourger settlement in Minnesota. In his early adult years he was undefeated Golden Gloves boxer. Here Dad is sitting on his friend Leo Smeltzer's car. Through his last working years he was a union "hod carrier" with Local 132.
Father's father, Bavarian: Landsberger, Pace, Beissel, Kleinsorg
Father's mother, Luxemburger/ Lützelburger/Luxembourgeois: Moes, Irrthum, Kirpach, Kleyer
---

Born Blanche Evelyn Dvorak (Devorak) November 13, 1913 in Dawson, Minnesota of a Bohemian father, Josef, and Swedish mother (Hilda Gustafva Thompson). As a young girl Blanche was sent to live with her Aunt Julia and Uncle Joe Svobodny in St. Paul, Minnesota upon the death of her father. All the children were sent to live with relatives out of poverty and to make way for the new family when her mother re-married. Mom had eight of us kids. She was preceded in her death August 16, 1994 by two, Claude Edward Jr. and John Peter. Tom followed January 17, 2017.
---
Mother's father, Czech/Bohemian: Dvorak, Moznett/Mazanec, Hlavic;
Mother's mother, Swede: Thompson, Peter(son), Bengston;

Family circa 1970,
l-r, Brother Steve, Sisters Claudia & Kaye, Father Claude, Nephew Paul, Mother Blanche, Brothers Tom and Dave. Bottom row: Nephews Ken, John, Mike, Tim
---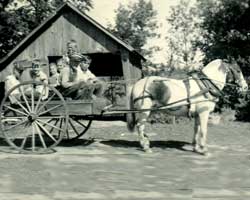 My mother's brother, Uncle Reynold's farm, Amor, Minnesota
Summer 1950
(with cousins, brother Tom and sister Kaye, and Uncle Reynold Devorak driving "Baldy"
---

Joe 'n Steve
Joe and Steve, together twenty-five years September 2016, sharing our St. Paul home
---
---
---